Recently, I quenched my thirst with a DOC Est! Est! Est! of Montefiascone. But it was innocently, without knowing the comical story of a bishop…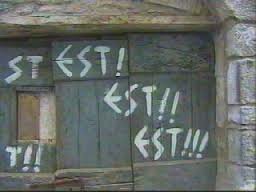 We are in the year 1110 young paupers and Europe gets ready to crown a new Emperor in Rome: Henry V. All the society goes there. Among them, the german bishop Johannes Fugger. Bon vivant, he is a wine-lover. So, a walk to Rome without his habitual wines, he has serious reason to worry. Then, he sends in scout one of his servant, Martin, many days ahead to locate the best taverns with an attractive wine menu…hard work ! Whenever he will find a good plonk that it is worth it, he has to write "Est !" on the door, being the really personal abbreviation of Vinum est bonum ! ("The wine is good !" in latinum 😉 ).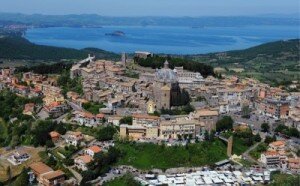 And that is when the friendly Martin stops in the lovely village of Montefiascone, around a hundred km from Rome. There, he comes across a delightful and refreshing white wine. He is so excited that he writes Est !!! 3 times on the door. On arrival time, the bishop can't resist to the temptation. He knocks back one glass, two, and three, … then the legend is born. According to Tom Stevenson in his Sotheby's Wine Encyclopedia, the bishop falls in love with this nectar and stays here…until the end of his life, canceling even his travel to Rome 😉 He dies in 1113 (may be from a cirrhosis …), buried in the local church of San Flaviano with a funny epitaph from his servant: Est est est propter nimium est hic Johannes de Fukris dominus meus mortuus est. ("It's here that, to having drunk with the Est, died my owner Johannes Fugger").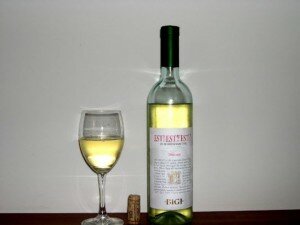 Today, the DOC Est! Est! Est! of Montefiascone is a blend of Trebbiano Toscano (predominantly), Malvasia and Trebbiano Giallo. The result is an acid withe wine with aromas of green apple and lemon, so perfect to quench your thirst in summer ! But thinking back, this story isn't surprising when you know who are the biggest wine consumer of the world 😉