In keeping with, aftere the cock of Chianti, in the category "winystorical anecdot", this is one of the tsar, which the paranoia is behind a legendary champagne: Cristal of Roederer !
If you have never seen a bottle of Cristal of Roederer, here are two pictures to solve two mysteries: the transparent color of the bottle and its flat bottom… wich will do its fame, unlike Jennifer Lopez. Who is behind its fault ? The gentleman below, Alexandre II, tsar of Russia from 1855 to 1881. Each year, this man with a moustach orders 60% of the production of the Maison Louis Roederer. But tired to drink the same champagne of his paupers of the Court, a day of 1876, he orders to the famous producer a prestigious champagne. Not think twice, Louis creates a champagne with his 10 best crus of his production. Up to this point, nothing unusual for a tsar. But this good guy Alex has to specifics applications: a bottle in crystal of Baccarat and a flat bottom !?! The official version says that reserving this bottle for a table covered by a white linen, nothing has to hide or disrupt the delicacy and the elegance of this nectar. A transparent bottle, without relief, is perfect to admire it. This version is for the children ! As one might say, the truth is out there…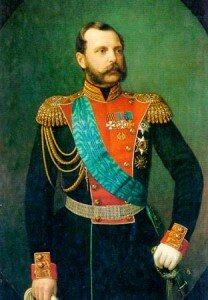 Slightly paranoiac…or almost (still around ten attacks during his reign), his demands are strategics. He wants a transparent bottle to check that no poison was put inside. Not daft… As for the flat bottom, it avoids to hide a bomb or an explosive in the bottle. QED ! A legendary champagne is born, that you can obtain for the modest sum of 200€ 😉 As to our tsar, this story couldn't help him and died…murdered in 1881.